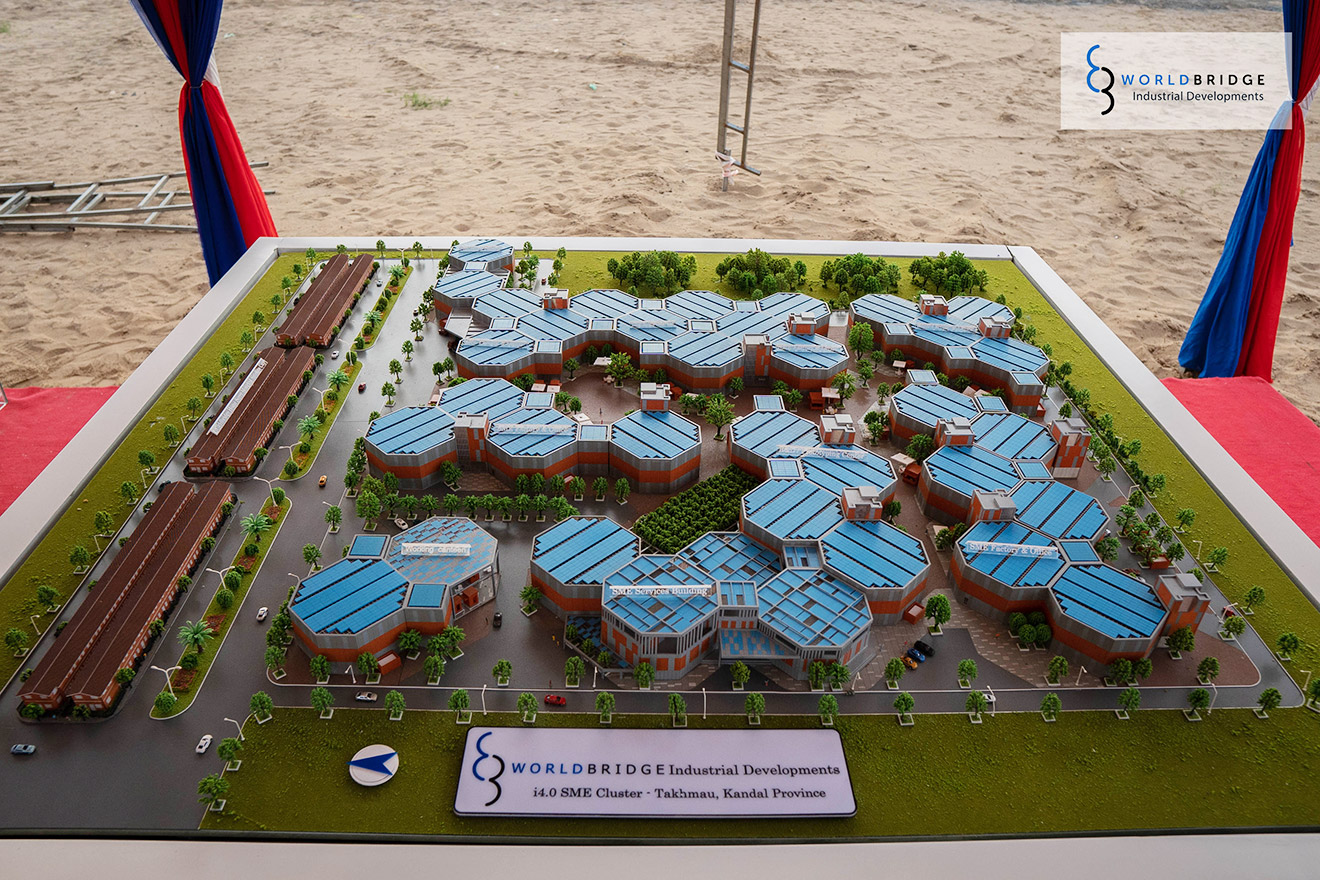 Kandal: Groundbreaking Ceremony for the Construction of the "WorldBridge i4.0 SME Cluster" in the Kingdom of Cambodia through WorldBridge Industrial Developments held on November 27, 2020, is located in Koh Kor village, Roka Khpos commune, Takhmao city, Kandal province, after organizing an official visit on-site last September.
The ceremony was presided over by His Excellency Dr. Cham Prasidh, Senior Minister, Minister of Industry, Science, Technology and Innovation, includes the significant local and international institutions such as UNIDO or FASMEC and key business community members will also be present at the event. The newest innovative industrial project launched in Cambodia is strategically located near the new future airport in Saang district, Kandal province, on the Third New Ring Road.
WorldBridge Industrial Developments is a member of WorldBridge Group, which is developing another major project on the same site, the "Serey Mongkul Satellite City" affordable housing project has competed at 70%. Both projects highlight the commitment of the WorldBridge Group to support the Sustainable Development Goals (SDG) set by the United Nations.
"WorldBridge i4.0 SME Cluster" is a unique project that is thought to help Cambodia to build its growth internally and allows SME to leapfrog from i2.0 to i4.0 environment and set the stage for new opportunities in the field of investment, manufacturing, SME development and entrepreneurship in Cambodia.
His Excellency Senior Minister considered that the establishment of small and medium enterprise clusters is very significant because the collection of SMEs to do this is in line with the needs of the market if they lack capital, there is a source of finance. Banks to support SMEs, lending, business expansion, including training in accounting skills, accounting and energy efficiency training. When SMEs produce and need to ship their products to markets both domestically and internationally. The WorldBridge Group is a provider of shipping services and logistics communications that can provide a marketable product with all kinds of services to small and medium enterprises while investing in this collection area.
Oknha Sear Rithy, Chairman of the Board of WorldBridge Group, said that the development project WorldBridge i4.0 SME Cluster is aimed at strengthening the management and promoting the competitiveness of the small and medium enterprise. Together with production processes, businesses and services in one place that are interconnected, supply and complement each other. He added that the company also works closely with development partners such as the United Nations Industrial Development Organization (UNIDO) and the United Nations Development Program (UNDP) to facilitate the establishment of a "Small and Medium Enterprise" on almost all sides.
Oknha included that the key points that the company has provided services in this project are to benefit small and medium enterprises or entrepreneurs to understand the importance of establishing a complete production chain and reciprocal as an ecosystem in the WorldBridge i4.0 SME Cluster. He said that by formally investing in standardized services and reliable infrastructure for small and medium enterprises, the production chain enhances value, create resources, saves time, and innovate production and quality cost-effective management.
After the Royal Government agreed to provide a package of incentives to the WorldBridge Industrial Developments, the company also set up a small and medium enterprise cluster, which is 8-month and schedule to be completed at the end of 2021, which divided into 7-main parts, such as:
Services Centers include Business Centers, One Window Service Office, Training Centers, Laboratories, Space for Restaurants and Beverages. Health check-ups and child care centers, conference centers, housing services and offices.

The equipment support center industrial of SME with a total area of 1,097 square meters. It includes hot water supply, cold water, solar energy management system, office space, exhibition hall, logistics area, courtyard area, and outdoor spaces.

Infrastructure with fuel and electric power supply, power management system, building management system, water supply, waste and waste management, industrial and wastewater treatment plant, wastewater treatment plant, cable TV service and 24-hour security service, full-day Weekly fire and emergency services, 24-hour backup power throughout the week there is a car charging station.

Local logistics and delivery service centers provide customs clearance, import and export services, on-site customs service, inventory management, refrigeration services, value-added services upon receipt and export. Packing of goods consists of ships and modern trucks.

Ease of doing business with research and evaluation center, on-site training center, event/function venue, meeting and conference halls, commercial and retail rental space, information services, eliminating all issuance of any advertisement that interferes with a legitimate business.

Make it easier for workers to work by setting up cafeterias for workers, restaurants and cafes for workers' day, labor market, charging stations, free motorbikes, public and private recreation areas, health centers in the workplace and housing for workers or room for rent.

Provide other support services such as accounting services, human resources, marketing, information technology, etc. Provide pre-launch services, financial and loan consulting services, reporting and testing of workers. The cluster has a wastewater treatment plant on-site and provides recruitment services.
– – –
For more information, please contact:
Address: The Bridge Soho Tower #38-25 National Assembly Street, Village 14, Tonle Bassac Commune, Chamkarmorn District, Phnom Penh, Cambodia
Email Address: info@wbid.com.kh
Website: https://www.wbid.com.kh
Telephone:+855 23 723 770