ACT 5 ECOSYSTEM THE DIFFERENCE
In alignment with the Industrial Development Policy of Cambodia, WorldBridge SME Clusters and their ACT5 Ecosystems, are an innovative solution for the next generation of high-value manufacturing and SME development in Cambodia.
Using an SME-oriented i4.0 Ecosystem of facilities, services and operating platforms, WorldBridge SME Clusters enable the barriers between Global Value Chains and Cambodia's talented base of SMEs and Entrepreneurs to be removed and higher-value opportunities created. When barriers are removed, opportunities to attract new manufacturing FDI, foster SME growth and create high-value employment occurs. With these new opportunities comes the ability to ensure sustainable economic and social growth.
A WorldBridge SME Cluster is a "Cluster with a purpose", meaning that it is planned and actively managed as one comprehensive Ecosystem supporting a sector-specific Value Chain of suppliers, manufacturers activities, lower operating costs, protect the environment and enable seamless access to global markets.
The WBID 4.0 SME Cluster strategy envisions that a network of SME Clusters is established in high growth potential sectors throughout Cambodia. This approach will enable decentralized growth in diversified industries, regional economic development as well as opportunities for local SMEs and Startups. Because the ACT5 Ecosystem provides a "menu" of facility types, services and i4.0 platforms, each Cluster and its Ecosystem can be easily arranged to suit the specific requirements of each manufacturing sector without having to invest in creating new and specialized systems for each sector.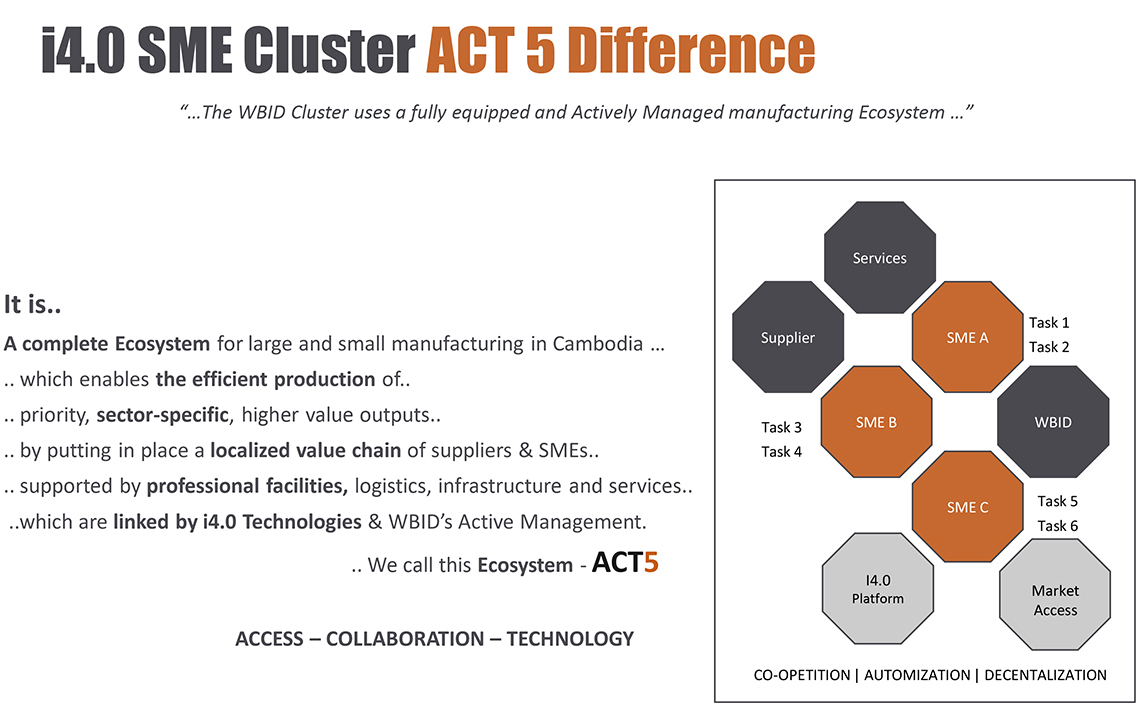 The ACT5 & WBID i4.0 SME Cluster difference
The ACT5 Ecosystem enables a "new ease of doing business" for our Cluster tenants by providing direct access to the essential services, technologies and specialized facilities needed to meet today's market demands of higher quality, efficiency and sustainability. Linked by i4.0 technologies and driven by WBID's Active Management, the ACT5 Ecosystem enables an environment of collaboration, innovation and a new breed of competitiveness or, "Co-opetition" to be created.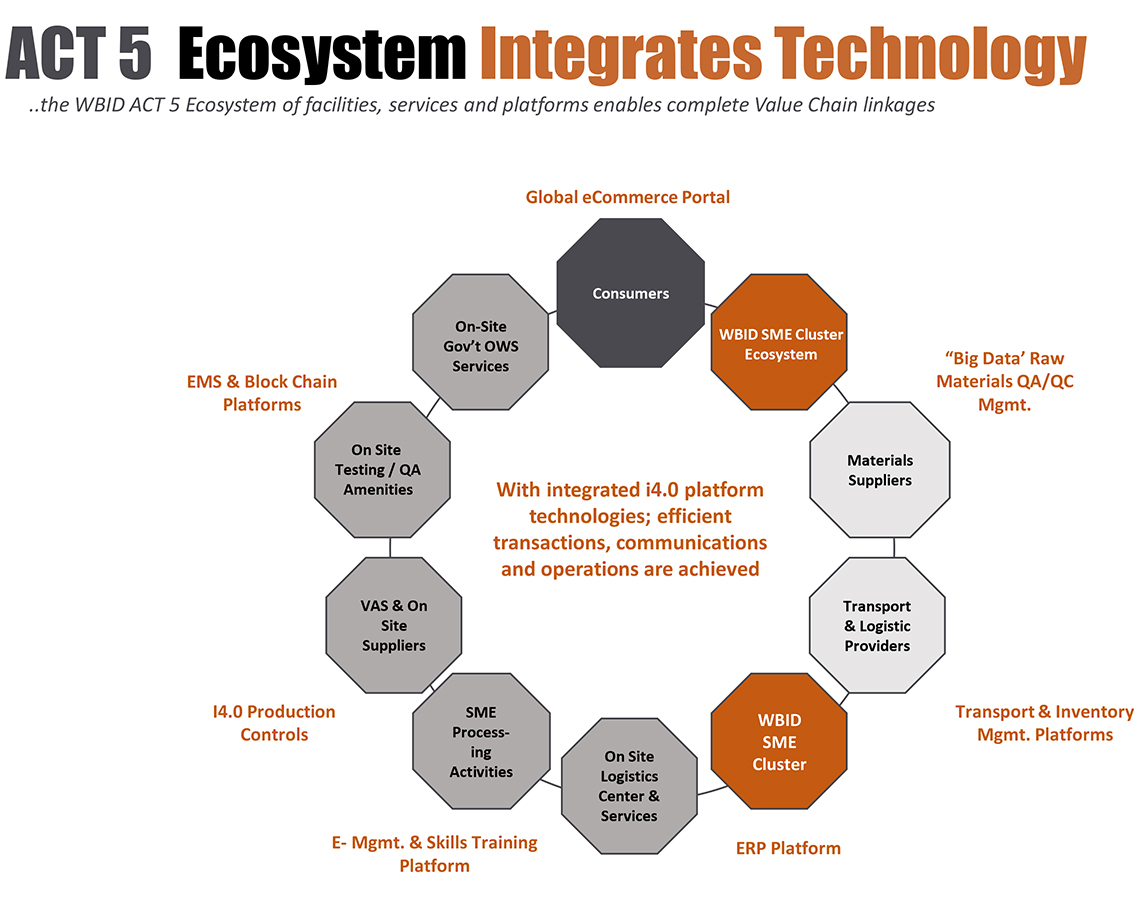 By enabling a Cluster's activities to be linked and its tenants able to work together as one "co-opetitive' value chain", each tenant will not only benefit from a more profitable business but also from opportunities for new product development, partnerships and access to higher-value markets. WBID SME Clusters are the only type of industrial facility to provide this difference and then actively manage it to benefit of each Investor, SME and Entrepreneur in the Cluster.
The 1st WBID SME Cluster will be built in Kandal Province and will serve as the HQ for all WBID SME Cluster planning and development in Cambodia as well as the center for i4.0 platform operations. In addition, the 1st Cluster is planned to host companies active in Agritech based R&D, plastic waste transformation, VAS services and the processing of local agricultural products into higher-value consumer goods. Currently, the 1st SME Cluster is scheduled to start construction in October 2020 and open in May 2021.